PURCHASE YOUR NEW FAIRINGS ONLINE
AIRCRAFT FAIRINGS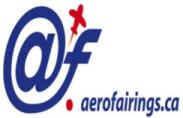 380 PRINCIPALE, ST ETIENNE DES GRÈS QC CANADA GOX-2PO
DIVISION: TROIS-RIVIERES AIRPORT QC CANADA

Vocal Messages only!/Tel.: (819) 375-1250 Our Fax number is: (819) 379-1131
Fairings are ordered online at: info@aerofairings.ca

PROCEDURE TO OBTAIN A QUOTE:

1- CHECK THE STORE STATUS: OPEN

2- CLICK ON THE PARTS SECTION, FIND THE FAIRING(S) NEEDED IN THE LISTING AND FAX OR EMAIL A MESSAGE REQUEST, YOU SHOULD BE ANSWERED WITHIN 24 HRS, IF NOT ANSWERED, TRY AGAIN.

3- TO CONFIRM A FAIRING ORDER, 1 SIMPLE WAY:

- EMAIL BACK THE QUOTE RECEIVED WITH C/CARD INFO AND YOUR MAILING ADDRESS

An order confirmation will be emailed when your fairing order is received.

NOTE: WHEN YOUR FAIRING ORDER IS SHIPPED, THE CREDIT INFO RECEIVED IS DELETED.
Discover, our large inventory of vynilester replacement aircraft fairings that are light, durable, repairable and easy to install.
Currently, we have parts for the following aircrafts :
Cessna, Piper, Lake LA4, Beech, Citabria, Rockwell, Grumman .
Helio-Courrier, Schweizer 233, Beaver DHC2, EDO float fairings
We also produce the W/Tip Clear Lenses for the Rockwell 112/114/115
STORE STATUS: OPEN
TO CONTACT US, PLEASE USE THIS EMAIL ADDRESS:
info@aerofairings.ca
DO NOT USE OUR PHONE NUMBER FOR INITIAL REQUEST, USE THIS EMAIL ADDRESS:
info@aerofairings.ca
VOLUME DISCOUNTS:
1-5 FAIRINGS: LIST -10%
5+ FAIRINGS: LIST -15%